Reducing Inequality, Social Vulnerability and Menstrual Poverty in North-East Brazil
Oct 2022
United Purpose
Charity Partner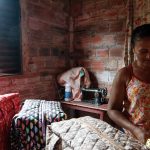 In October we supported United Purpose in their work with women in North East Brazil to reduce poverty and improve the health of women and their families in Northeast Brazil.
In the rural municipalities of Montadas and Guarabira in Brazil's northeast region, extreme poverty affects more than 50% of families. Many of these are women-led and have three or more children. Poverty directly impacts on food security and overall health. For women and teenage girls, low income also creates 'menstrual poverty' – the situation wherein lack of access to menstrual pads and sanitary products leads to social isolation and school absenteeism during menstrual periods.
This project confronts the 'poverty trap' by providing a means of income, education and awareness regarding women's health and rights, and preventing social isolation. Through participation in community-based groups women are offered a lifeline. In these groups, they get access to information, share experiences and build a basis for income generation.
Together with a local partner, United Purpose has supported 50 women from four groups, to gain an income from the production and sale of artisanal textile-based products, crafts and soaps.  These are then sold products at fairs, markets and stores, directly benefitting all the women and their families. Supporting their businesses, the groups have access to revolving funds, that provide interest-free seed capital for their women-led businesses and home-based income generating activities. This is a strategy that has shown to be very effective in building and sustaining businesses, as well as contributing effectively to improving management skills and collective decision-making. As a result many more benefit from such important sanitation products, education and economic support.