Improving Maternal and Neo-Natal Health in Chuadanga, Bangladesh
Nov 2022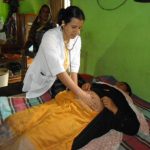 This month we have supported IMPACT to do vital work in providing vital pre and post-natal care to mother's in Bangladesh.
The Maternal Mortality Rate in Bangladesh remains high, especially in rural areas.
Chuadanga is a remote and impoverished rural district in the west of Bangladesh where healthcare is largely unattainable for the poorest people, nearly 85% of births take place in the home. Women rely on the support of Traditional Birth Attendants, who are often unskilled, possessing little formal knowledge of reproduction.
IMPACT is dedicated to changing this situation for the most vulnerable women. They
 have worked with their local partner IMPACT Foundation Bangladesh to establish a hospital and community health programme in the area which is designed to tackle the combined threats to health caused by lack of health care, poor sanitation and unclean water, and the prevalence of malnutrition which pose a daily threat to the lives of, in particular, women, infants and young children.
As a result of Be One Percent's support, IMPACT will be ensuring that women and babies are healthy during pregnancy, birth, and beyond, through access to healthcare and education, and the training of Traditional Birth Attendants. This significant improvement to maternal and neonatel outcomes in the impoverished district of Chuadanga in Bangladesh, is making a vital contribution to the long term needs of the community.

IMPACT is a charity dedicated to preventing and treating needless disability worldwide. We believe that no one should become or remain needlessly disabled through disease, lack of knowledge or shortage of medical services.  IMPACT's doctors, surgeons, midwives and healthworkers 'take the hospital to the people' through innovative means, such as a hospital train in India; a floating hospital in Bangladesh;. our mobile clinics in Cambodia, India, Kenya, Nepal, Tanzania and Zanzibar take medical care to people who would otherwise have no place to turn in the event of ill health. Malnutrition, lack of clean water, sanitation and communicable diseases all exact a heavy toll in low-income countries. IMPACT addresses this through straightforward schemes such as home gardens to ward off malnutrition; immunisation to protect against disease; medical and antenatal care to safeguard health; education to empower communities with skills and knowledge; and safe water and sanitation projects to avert the spread of illnesses, which can cause disability and threaten lives.